A writer for a liberal outlet who considers Tucker Carlson a "far-right firebrand" is very upset the former Fox News host pulled a joke on him. And reporters wonder why conservatives don't trust them. The reporter in this case is Mattathias Schwartz of Insider, who interviewed Carlson by text Tuesday night. The headline effectively summarizes
Schwartz's article
— and his attitude toward the former Fox News host — in as few words as possible: "Tucker Carlson told us he's running for president in 2024. Then he said he was joking. Then he said he's 'fundamentally a d***.'" (Insider didn't use asterisks.) "When I asked Tucker Carlson in a text on Tuesday evening if he was planning a run for president, the newly self-employed far-right firebrand had a shocking answer: 'Yes. Announcing Friday in New Hampshire,'" Schwartz wrote in the article, published Wednesday. "But my earthshaking scoop was short-lived. After I credulously asked him to confirm that he was serious before I blasted out the news, which would reshape the 2024 presidential race, the former Fox News broadcaster confirmed what millions of Americans have already concluded: He's just an a**hole."
Carlson
wrote back that he was, "Totally kidding," adding, "Sorry. I can never control myself. I'm fundamentally a d***. My apologies." Schwartz also tweeted about this, along with a screenshot that actually makes him look worse, somehow:
Some late-night texts with @TuckerCarlson, wherein he says he is indeed running for president, then says he is just kidding about that, then says he is "fundamentally a dick." Story here… https://t.co/OukLuulbGQ pic.twitter.com/4GiF9R3n6b

— Mattathias Schwartz (@Schwartzesque) May 10, 2023
Schwartz apparently made the unfortunate mistake of believing that, absent any fundraising push or an exploratory committee, Carlson would be announcing a presidential run
that very week,
and Schwartz wanted the scoop. I've never done iMessage with Tucker Carlson, but even I wouldn't be foolish enough to believe, without any serious noise about assembling a team that would enable him to run for high office, that the former TV host was going to be announcing that run in just a few days. So, coming away empty-handed, Schwartz concluded Carlson was the "a**hole" in the conversation and tweeted a screenshot that made himself look like a humorless prat. For whatever reason, on his
Twitter account
, Schwartz retweeted conservative social media personality and former Daily Caller writer Greg Price calling him out for confirming that, yes, Schwartz is a humorless prat: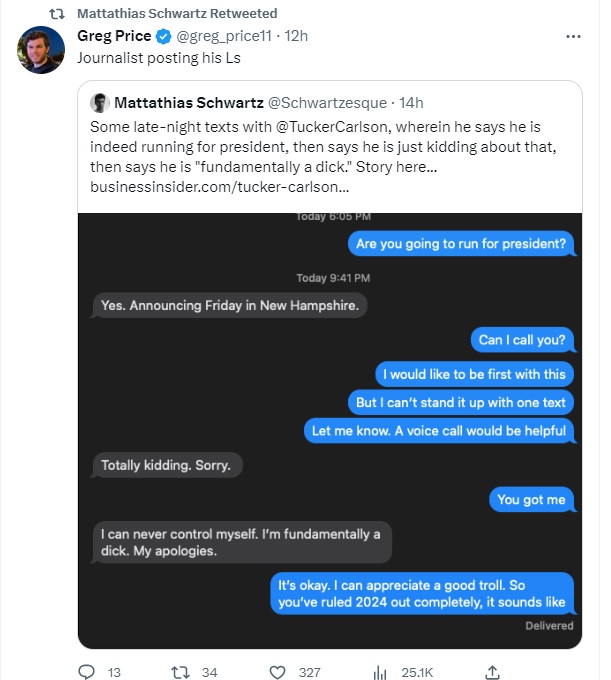 Boy, you sure showed
them,
Mattathias Schwartz. Further on in his piece, the Insider writer who'd told Carlson he "can appreciate a good troll" decided he didn't appreciate the joke after all. He finger-wagged Carlson for his "rash messages" and said the joke came "as the incendiary monologist attempts to rebrand himself as a full-time Twitter personality." Schwartz went on to say
Carlson's former show
was an "ideological North Star for the embittered and racialized nationalism that propelled Donald Trump into the White House and then incubated the Trump movement's conspiracy theories and insatiable sense of outrage in the wake of his 2020 election loss." [firefly_poll] I don't know why Carlson would 
ever
pull a prank on this gentleman. Schwartz became the latest journo to get outraged because Tucker Carlson appears to have fun being Tucker Carlson. The most famous, naturally, is Media Matters for America hack Matthew Gertz, who has been busy being irate over "#FoxLeaks" videos that make Carlson look like a human being with a
functioning sense of humor
. See what passes as ghastly in the jocularity void that is MMFA-land:
WARNING: The following videos contain language that some viewers might find offensive.
Tucker Carlson on Fox News: "If you've got pronouns in your Twitter bio, you shouldn't work here because we can't trust you because you're on the other side." pic.twitter.com/FsE5YEdJ3L

— Matthew Gertz (@MattGertz) May 9, 2023
FOXLEAKS: Tucker Carlson slammed Fox Nation in behind-the-scenes video https://t.co/XhQlKQVHJ1 pic.twitter.com/mKqJBuWzCw

— Matthew Gertz (@MattGertz) May 1, 2023
FOXLEAKS: Tucker Carlson asks makeup artist if "pillow fights ever break out" in the women's bathroom in new behind-the-scenes video https://t.co/M2d6THLRdq pic.twitter.com/vSRooVlzVH

— Matthew Gertz (@MattGertz) May 4, 2023
Stop the presses: Carlson is human, not an
MMFA-bot-scold
. Perhaps that's why they're so freaked out he's decided to continue his show on Twitter until his Fox News contract ends in January of 2025 or he's able to negotiate an exit. Check out former CNN host Brian Stelter's reaction on MSNBC to Carlson's announcement about his new Twitter project. In case you needed to remember how much of a twit Stelter was in his "
Reliable Sources
" days, here he is essentially lamenting the fact Carlson has — gasp! — free speech so long as he abides by Twitter's policies. The horrors!
NBC's reaction to Tucker Carlson's Twitter show announcement: "Will anybody be able to police what Carlson says or is this the point? It's just a free for all?"

pic.twitter.com/BmgZpPGFlm — ALX 🇺🇸 (@alx) May 10, 2023
Just to be clear, Stelter, Schwartz, Gertz and their respective outlets — MSNBC, Insider and MMFA — have painted themselves as gatekeepers stopping us from from this, this, this —
man who jokes. around. OCCASIONALLY.
This is Edward R. Murrow and Joe McCarthy, Woodward/Bernstein and the Nixon White House! The po-faced Fourth Estate is protecting you from "incendiary monologists" on the "far-right" who josh with reporters from Insider on iMessage! And Twitter is platforming that guy! He also made some jokes about pillow fights and the Dominion Voting Systems lawyer and stuff! J'accuse, Tucker! So yeah: If you needed a reason why conservatives distrust the media, you could do a lot worse than Mattathias Schwartz. This article appeared originally on
The Western Journal
.