There is an old proverb: "Clothes make the man." It reflects the widespread human tendency to rank the status of other people by outward appearances, such as the way they dress. On Thursday, Pennsylvania Democratic Sen. John Fetterman's handlers chose to ignore the wise advice the proverb contains: Reputation is reinforced by the amount of care and competence publicly displayed. They let Fetterman take part in a news conference dressed in a baggy hoodie, shorts and sneakers. Some might argue that is an unfair or shallow means of judgment. Our society has become much more casual over the last few decades. However, it is still the standard expectation that those in positions of authority present themselves professionally while carrying out their duties. Fetterman blew that standard. His sloppiness undermined the tone of the entire event. Vermont Sen. Bernie Sanders held the news conference on debt ceiling negotiations. Fetterman's
inappropriate appearance
and faltering speech during the event overshadowed the Democrat narrative.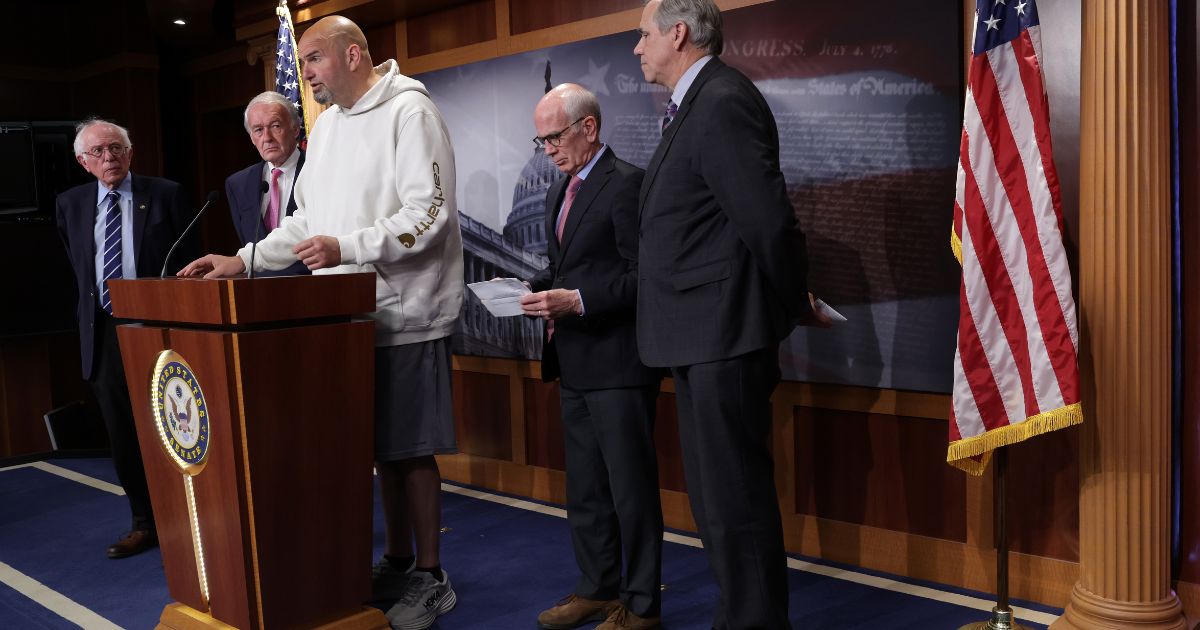 Fetterman has long stood out for his clothing choices. [firefly_poll] Establishment media sources such as
GQ
and
The Guardian
have claimed Fetterman's "workwear" endeared him to the average voter. However, candid photographs have led some to believe his trademark hoodie might not just be a fashion choice but is used to conceal some kind of lump or swelling occurring on his neck.
First time Fetterman's neck is fully exposed without a hoodie and folks have questions pic.twitter.com/U2ZDmFMubc

— Clara Jones (@debbieformola) September 11, 2022
Persistent health concerns plagued Fetterman's performance both as a candidate and as an elected official. He had a
stroke
in May 2022 and has not recovered the
ability to speak
coherently in public, usually a key expectation for politicians. In February, Fetterman began a
two-month absence
from his Senate duties while he was hospitalized for depression. Even when returning to Capitol Hill after his treatment, needing to prove his fitness for office, the senator still showed up dressed like an
overgrown kid
. His appearance Thursday in a white hoodie and shorts alongside four senators in dark suits had Twitter users talking. Accompanying a clip of Fetterman's off-kilter speech, one user noted the obvious: "Dressed like a bum."
Dressed like a bum

— DJ McAuley (@DJMcAuley) May 18, 2023
Many others commented on his attire.
Is that the new dress code in Congress?

— Tobias Maximus (@tobyzapf) May 18, 2023
Is there not a dress code in congress?

— Devon Gardner (@DevonRGardner) May 18, 2023
Would it have killed him to wear a suit as he bumbles through his speech?

— Julia 🇺🇸 (@Jules31415) May 18, 2023
Dude what is he wearing??? That's so disrespectful. It's one thing to show up to the building like that, it's an entirely different thing to give a press conference like that. Idiocracy doesn't have to be real life. This guy needs to just resign. He's not helping anyone including…

— Aaron Hermes (@realAaronHermes) May 18, 2023
It is concerning that Fetterman cannot recite a simple speech without the words written in front of him, and it is ridiculous that he cannot even be bothered to dress appropriately for news conferences. Fetterman's handlers would be better served if they followed the example of Peter Boyle, who knew getting dressed up and "
Puttin' on the Ritz
" was a way to impress people. This article appeared originally on
The Western Journal
.